I'm a sucker for a good ending. When I'm writing a piece, the final sentences of that piece are always the ones that are the most difficult for me. I agonize over them and usually wind up rewriting them many times over.
It's not that I'm obsessive-compulsive for no particular reason. I think that endings are important. How you end something you've created off is the final taste that the people who will be exposed to your creation have of it.
For me, a written piece is not unlike a gift you give to your readers. Part of the enjoyment of a gift is in how you give it, the rigmarole through which you go to make the hand over just right. A good ending is the final bow on that gift for me; it makes the piece ready for hand over.
So a solid ending, one that really seals the deal and nails the overall efforts of your creation, well, that can be the difference between an alright piece and a spectacular piece. How many times have you made your way through a book or a story of some sort, enjoying it along the way, and then the ending falls flat and you say to yourself, "Man, I really want to like that story, but the ending just didn't do it for me"?
I watched a lot of movies as a kid and had that experience on more than a couple of occasions. But the movies that didn't leave me with that feeling were often the stuff of genius. They've stuck with me and have become my favourite movies. Here are four good examples.
American History X
American History X is a powerful movie, period. Ed Norton has long been one of my favourite actors and it was his performance in this movie that really got me hooked. Edward Furlong provides a supporting effort that matches Norton's prowess and even the smaller characters, like Beverly D'Angelo as Norton and Furlong's mother and Faruza Balk as Norton's girlfriend, are deftly provided.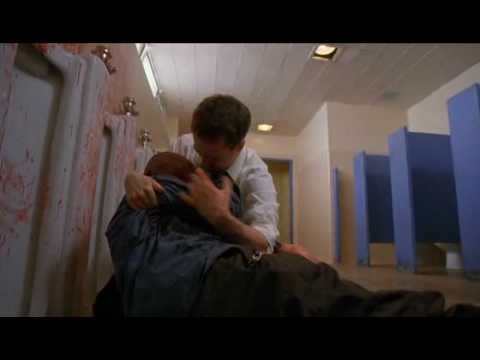 The movie itself is a pretty unflinching look at racism and racial tensions in America. Although dramatized, the way that those issues are explored is engrossing in a rigorous sort of way. And every side of those dynamics gets humanized so that you come to honestly care and feel invested in them, from the white supremacists (yes, the white supremacists) to the African American character who breaks through to Norton in jail.
That humanizing is what makes this ending so gut-wrenching: http://www.youtube.com/watch?v=c8ZZTtg1nOY&oref (sadly, the embedding on most of these clips is disabled due to copyright claims, so I have to suffice by linking to them).
You don't see it coming, of course, expecting that Norton's character is the one in danger. But the twist component is actually incidental to the power this ending provides. I watched American History X again not long ago, knowing full well how it ended, and I still sobbed when it came. There are consequences to our actions, often unintended. And what we do, even on the day-to-day level of minutia, matters more than we generally acknowledge. As the Greeks said, "Know thyself," and leave no stone unturned in your excavation.
The Dark Knight
Christopher Nolan's cinematic adaptation of the Batman graphic novels is, to my mind, the benchmark for such efforts. And the Dark Knight is my favourite thus far. There are a lot of things to like about this movie: Heath Ledger's final and riveting performance as the Joker, the socio-political undertones on which the movie touches, the sheer aesthetic universe that Nolan manages to create and in which he ensconces you.
A lot of people rave about the ending of the Dark Knight's predecessor, Batman Begins. And the Joker foreshadowing was an awesome touch. But it pales in comparison to the ending of the Dark Knight, in my opinion: http://www.youtube.com/watch?v=GDQob4AOCsQ
This ending also makes me cry, which is a bit odd for what is essentially an action movie, but in a very different way than American History X. The degree of honour that Batman demonstrates in the end, having all of Harvey Dent's actions blamed on him so that Gotham can retain the hope it so desperately needs, is just overwhelming. You rarely see that kind of honour capture in movies in a way that remains so real, grounded, and gritty.
And to deliver the ending via a soliloquy by Commissioner Gordon/Gary Oldman, it is, in some senses, one of the best examples of what I described above. It perfectly wraps the movie up for the viewer.
The Breakfast Club
The late John Hughes' The Breakfast Club was one of my favourite movies as a child. It's well written and very funny, which is most of what appealed to me as a kid. But it is also a powerful look at the challenges of being a teenager and the struggle to find one's self that remains as poignant today as it did 27 years ago when it was released.
It wasn't until later viewings that I really started to catch on to those deeper themes in the movie. And so my love for both the writing and heroic performances by various members of the Brat Pack has only grown over the years. Again, the ending here is well delivered and powerful: http://www.youtube.com/watch?v=Sv1I4q6lOpo
Coming to identify and understand the roles that society places on you from a very early age is no small sort of subject matter to tackle. The ways in which The Breakfast Club does so have both an intellectual and emotional depth that belie the genre in which the movie is generally placed.
The essay written by Anthony Michael Hall's character confronting and challenging the epitome of that social conformity as portrayed via the Vice Principal character by Paul Gleason finds just the right voice. Strong, but not over the top. And Judd Nelson's fist pump at the very end hits a liberating note that I think resonates with each of us on a deep level. We would all like to break free from the weight of those symbols.
Shutter Island
I was surprised upon viewing that Shutter Island got as mixed reviews as it did. Scorsese strings together a terse and elegant psychological thriller in this movie and wrestles a reasonably haunting performance from Leonardo DiCaprio per his usual skill. Again, the supporting performances from people like Mark Ruffalo, Ben Kingsley, Max Von Sydow, and Michelle Williams make this a movie I can watch over and over again.
Of course, for most people, the brilliance of the ending hinges on the revelation that the entire plot is a figment of DiCaprio's character's fevered mind. And as far twist endings go, Shutter Island's is pretty epic. This is especially true insofar as it lends the final grim touches to an unsettling ambiance that pervades the movie in the understanding that what you've been watching is ultimately the deep inner workings of a person's subconscious mind.
But the very final scene is what really gets me: http://www.youtube.com/watch?v=3NKvQKxKlYo
To me, this is the true climax, with the twist acting as a sort of red herring. Yes, coming to realize that everything you've watched is happening in DiCaprio's mind is unexpected, clever, and disturbing.
But the line, "It makes me wonder, which one would be worse: to live as a monster or to die as a good man," tipping the hat that DiCaprio's character hasn't slipped back into his delusion, that the radical therapy he's undergone has worked, and that the weight of reality pressing in on him is such that he would rather keep up the ruse and die than go on is breathtaking in its subtlety. Every time I see it, I'm left reeling at just how vividly Scorsese presents a careful examination of the precarious nature of the human condition.