Trying to elucidate a post-postmodern politics is a relatively isolated affair. Politics itself is a robust field, splitting at the seams with a host of different players. A quick look around reveals a myriad of discussions about a variety of topics ranging from the importance of a long form, compulsory Census in Canada to the geo-political ramifications of nuclear-armed Iran.

There is no shortage of material, nor any shortage of opinions and perspectives providing insights on that material. And increasingly, the political spectrum is a sort of fast food buffet, set up with as many ideological hybrids as there are political tastes.

One can consider one's self a conservative, but would then have to determine if one is more of small-government, militarily isolationist paleo-conservative; or a traditionally-rooted, religiously-minded, and defense-focused social conservative; or a free-trade-focused, regulation-skeptical economic conservative; or a governmentally-practical, militarily-interventionist, democracy-spreading neoconservtive, or an individually-focused, economically-laisez faire, socially-neutral, governmentally-antagonistic libertarian leaning conservtive; or a....

You get the idea -- and that is just a brief analysis along one axis of the political spectrum. The reality is that there is a profusion of different political perspectives that offer answers in an increasingly complex world. But what if your aim is to break away from the conventional wisdom of all these perspectives in an attempt to lay a framework of meta-analysis that seeks to make some modicum of sense to this otherwise messy state of affairs? As the kids say, double-plus hard.

And so in the course of those efforts, it can be helpful to have fellow travelers against whom to bounce ideas and receive constructive feedback. Because the challenge here is that even in taking a wide-angle perspective on political affairs, one needs at the same time not to become entirely detached from the subject of one's investigations.

Engagement is vital in any field, particularly politics. Without engagement, it can be easy -- and in some regards, tempting -- to start dealing in one dimensional tropes and stereotypes. Especially when we fancy ourselves to be constructing a "big picture" story. But those shortcuts most often ignore the real complexity of views with which we are dealing. And so it is helpful to have a partner to remind you not to get too far removed from the process itself.


So a few weeks back, I went out in search of just such a partner. As mentioned, there aren't a whole slew of people out there to choose from. But in the course of my thinking, I remembered an article towards which fellow Beams and Struts contributor Trevor Malkinson had pointed me on precisely this topic. The essay, referenced later in this piece, was published in Tikkun magazine and was authoured by Steve McIntosh.

If you Google "integral politics", McIntosh's name is one of the first to come up. In addition to authouring a chapter on integral (post-postmodern) politics, McIntosh has also discussed the topic with well-known and respected editor of EnlightenNext magazine, Carter Phipps. McIntosh has also been interviewed on the topic of integral politics in Integral Review by Russ Volkmann.

In short, Steve McIntosh has emerged as an important and influential integral thinker who has spent more time considering the implications of integral theory on the practice of politics in a post-postmodern world than most.

Some more details on McIntosh's accomplishments:

Steve McIntosh is author of the acclaimed book: Integral Consciousness and the Future of Evolution (Paragon House 2007). An honors graduate of the University of Virginia Law School and the University of Southern California Business School, since 1995 McIntosh has served as founder and president of the international manufacturing company Now & Zen, Inc. He is also an original member of the "Evolutionary Leaders" group spearheaded by Deepak Chopra. McIntosh has just completed his next book, entitled Evolution's Purpose—An Integral Interpretation of the Scientific Story of Our Origins, which will be released in late 2011. For more on his work, visit: www.stevemcintosh.com

It was not without some trepidation that I wrote McIntosh to see whether he would be willing to enter into a shared space of inquiry with me on the current and future states of a post-postmodern politics. Graciously, McIntosh accepted my request and the following exchange is the result of our efforts.

Scott Payne: What strikes you as our biggest challenge in fashioning a political discourse and process that is up to meeting the multifaceted and increasingly complex and interconnected issues facing us in a twenty-first century world head on?


Steve McIntosh: Thank you for this crucial question. But before attempting an answer, let me say first that I am pleased to see the Beams and Struts website come into being and am glad to be contributing to this fruit of the emerging integral or evolutionary worldview. And with respect to your focus on politics, let me also say that any discussion of a "new approach to politics" must start by acknowledging that some of the worst mischief in history has been wrought by "true believers" who were convinced they had a better idea. This risk is exacerbated in the case of the evolutionary worldview because of its willingness to recognize a vertical dimension of development. In other words, claims that some cultural groups are more developed or evolved than others can be problematic or even dangerous. We must thus be ever-mindful that previous efforts to apply evolutionary theory to politics resulted in severe mistakes, as seen in the case of both Social Darwinism and Marxism. But these lessons of history are not lost on those who now advocate a new kind of evolutionary approach to politics.

That said, we can begin to answer your question by observing that there are several versions of "integral politics." One is a kind of integral political science that analyzes large-scale political evolution (or stagnation) through the lens of an integral perspective. This kind of scholarship can bring a lot of light to the events of history and the political challenges of the present. I have engaged in this kind of analysis in my own work and continue to commend it in the work of others. However, I am currently more interested in the kind of integral politics that is focused on activism—the kind of politics that has a chance to directly influence cultural evolution. And in this realm I believe we need to focus on the areas where we actually may have some leverage. That is, the nascent integral movement has very little cultural power and thus little chance of influencing the American Federal Government or mainstream modernist culture in general. (1) But where we do have some growing influence is within postmodern culture (2) (with "postmodern" used to denote the demographic of the "cultural creatives" or the "green meme" as a whole). (3) Influencing postmodern politics involves improving it. And one of the ways that progressive politics can be improved is by helping it overcome its current relative impotence in achieving its laudable goals, such as taking more effective action to combat climate change. (4)


From an integral perspective, the reason that postmodern politics remains relatively impotent in important areas is because so many of its adherents are extremely anti-modern. Despite the diversity of views that are embraced within postmodern culture, what generally binds postmodernists together is their agreement regarding the abundant pathologies of modernism. Anti-modernism is thus the hallmark of postmodernism in practically all its forms. Therefore, an important step in "fashioning a political discourse" that is up to meeting our challenges, as you say, is to help overcome the anti-modern tenor that characterizes so much of progressive politics. In other words, we need to employ the emerging insights of integral philosophy in the task of raising consciousness within postmodern culture, and this of course, is certainly a "big challenge."

SP: I appreciate your focus on an integrally informed politics that is actively engaged in the political process. Getting away from exclusively analyzing politics from a distance and getting into the fight, as it were, is a lot of what I've been trying muddle my way through on these pages, as well. Taking what we mean by an integrally informed politics and moving it from strictly a conceptual exercise towards something that is more embodied, to some degree.

I think this is actually vital if such a politics is ever to cultivate a modicum of respect and acceptance (and thereby, as you mention, an ability to influence) by already existing political sub-cultures. You can't expect to influence the course of the game if you insist on watching from the side lines.


To this end, what are some of your rough thoughts on what an integrally informed activism might look like? What are, for example, some of the active components of your own political engagement?

And, if I can cheat by bundling two questions into one, to your point around working with people operating from a post-modern perspective. As soon as we start using words like "help", we inevitably come into contact with a defensive response. There is an implied power dynamic, here -- a gesture towards a hierarchy of realization and knowledge towards which many post-modern activists are immediately skeptical and mistrusting. So what skillful means do you see as being valuable in engaging our fellow activists that might assist us in either avoiding or overcoming this natural response?

SM: Well, there are obviously many forms of legitimate political activism that integralists can pursue. But from my perspective, the most important form of activism for this point in history involves building the integral worldview itself. That is, we need to demonstrate the power of the integral perspective and show how effective it can be at providing solutions. We need to build wider recognition of, and agreement with, this emerging understanding of evolution. In other words, we need to teach the truths of integral philosophy and persuade people that consciousness and culture do evolve, and that we can solve many problems by coming to a deeper understanding of this phenomenon.


"Teaching" integral philosophy as a form of activism can, of course, involve a wide variety of activities. It can involve creating media such as books, videos, blogs, articles, etc. And it can also be as simple as engaging our friends and family in conversations about it. Further, the more we can each embody it as our own philosophy and not simply Wilber's philosophy or Whitehead's philosophy—the more we can show how it is actually a new understanding of evolution that recognizes interiors and can detect a new kind of depth—the more effective we'll be in these communications.

Now, in making this recommendation for "activism through teaching" I need to point out that in this internet interview we are speaking to the "integrally informed audience" of the Beams and Struts website. In other words, this is a conversation between integralists; it is not aimed at the larger culture, and indeed presumes that our readers will have some prior familiarity with the concepts we're talking about. And for the uninitiated, I can point to my website www.stevemcintosh.com, which includes a lot of introductory material on the integral worldview, both audio recordings and excerpts from my book Integral Consciousness.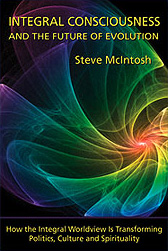 So to finalize my answer to your first question, my own political engagement is focused on being an author and teacher of integral philosophy. The book I have just completed, Evolution's Purpose, is aimed at the educated mainstream of modernism. This new book applies the insights of integral philosophy to the latest science with the intention of demonstrating the power of this new perspective. I thus hope to persuade both modernists and postmodernists that the integral worldview is the way forward that provides hope the future. And again, what makes these efforts political is that they are designed to raise consciousness and thus persuade people to change their minds about some of their political positions.

Regarding your second question of how do we overcome defensiveness, I can say that we can begin by not being defensive ourselves. If we believe that consciousness and culture actually do evolve, then we can't be afraid to claim that the integral perspective represents at least part of the next step for our culture's evolution beyond postmodernism. And, of course, the skillful means in this area include being modest and humble in our proclamation of these truths.

Beyond this, we can be of most "help" by focusing on the problems of those we would like to persuade. That is, people usually only need help when they have a problem they cannot adequately solve. For example, if postmodernists are willing to admit that they are currently losing the battle to bring about climate change solutions, then they may be interested in hearing about a new perspective on the issue. But if they think that the failure to mobilize the larger society to fight global warming is not their fault, if they are not looking for ways that they can become more effective, then they are probably not open to hearing about the integral perspective. Thus, the activism of persuasion begins by pointing out the problems for which the integral perspective provides unique solutions, and then working from there.

SP: Certainly activism as teaching people about an integral perspective is vital to our political, cultural, and conscious evolution. We can't very well expect individuals to start recognizing the benefits of an integral worldview without first being aware that such a thing exists. And working with those who operate from a postmodern perspective to help overcome challenges like affecting positive steps towards addressing issues like climate change also makes a lot of sense from a "use of resources" (i.e. time, energy, people) angle.


And yet, I still feel like there is a certain reticence among self-identified integralists around getting into the nitty-gritty, day-to-day grind of the political process. There is a raucous political discussion happening across the globe in and between a variety of countries and regions that, while at times dirty, ugly, and full-contact, is important and vibrant all the same. This is a discussion and debate where people who care and out a lot of time in thinking about a variety of political issues come together to hash through the minutia of political discourse: public policy on a plethora of issues from economics to education, first principles and philosophies on political ideologies and parties, and the very role of government in public life. And the participants hail from across the spectrum of evolutionary representatives (postmodern, modern, premodern, and so on). (5)

Taking our fewer numbers into consideration (somewhere in the neighbourhood of 2% of the world population), integral, or as we've suggested at this site post-postmodern (as a means of avoiding the "strictly Wilber" snare to which you referred), representatives seem to remain quite removed from this fray. Perhaps this is less the case in other integral fields, but there seems to be a real dearth of participation among integral political thinkers. We seem much more comfortable to get together in our own communities and talk amongst ourselves about various issues and potential solutions. As you mention, Beams and Struts is an integral/post-postmodern site and while we work hard and very consciously to make it as accessible as possible, we often don't succeed.

And yet, entering this fray is, to my mind, a key embodiment of activism that integralist/post-postmodern political thinkers need to steel themselves towards. Not necessarily as "intelgral political thinkers", but just as engaged individuals and citizens. In the political arena, we need standard bearers who can act as established names and respected participants who can turn around once those of us who are working feverishly on fleshing out the bones of our applied worldview have bodies of work that are ready for larger consumption and act as legitimizing forces for the inevitable skepticism that any introduction of a new perspective/insight cultivates.


As Olen Gunnlaugson said in exchange with Beams and Struts' Juma Wood, reflecting on his experiences at the most recent Integral Theory Conference at JFK University,


"Among the many promising aspects of the conference related to maturing the culture, an obvious one was the strong and much needed desire for the event to become more academic. The rhetoric was a little overdone in places, raising the eyebrows of folks visiting from more traditional academic institutions. Yet I also understand this as a reflection of how passionately the intention was held by the organizers and contributors. It helped remind everyone that though "integral" is in ways foremost an emerging culture, academically speaking, there is a field of studies. And if integral is going to emerge as a viable field, it must take seriously a number of the gold standards of academia--rigour, depth, criticism, peer-reviewed processes, debate, among others--while continuing to refine and clarify precisely how integral practices can help academia evolve and grow-up."
This is, I think, a key insight from Olen, someone who is very much committed to birthing an integral/post-postmodern frame of thought and life that is both potent and sustainable. And it stands not just for integralists/post-postmodernists vis-a-vis academia, but also, if not more so, vis-a-vis politics.
In this regard, I am really more gesturing towards average, everyday folks, rather than, say, people like Bill Clinton and Al Gore towards whom we always seem so eager to point. Clinton and Gore are undoubtedly important and valuable figures, but I'm really envisioning integral/post-postmodern pundits, analysts, bloggers, reporters, and, of course as we've suggested, activists, more than prestigious political leaders.
So with that pre-amble out of they way, as a final question to you, do you agree that this reticence exists (I admit that this is a personal line of thought so I acknowledge a certain potential bias in my perspective) and if so, why do you think it is exists? And What might we as integralists/post-postmodernists do in an effort to overcome this reticence?
If you do not think it exists, can you point to some of the efforts on which integral/post-postmodern political thinkers/activists are engaged with regards to this day-to-day fray that I have missed and perhaps some outcomes of those efforts?
SM: There are abundant worthy political causes to fight for. And many of these causes can attract and unite people from different worldviews. But sometimes the most effective activists are actually centered in less developed worldviews. For example, the efforts of evangelical Christian pastor Rick Warren to fight hunger and poverty in sub-Saharan Africa appear to making progress in ways that other aid groups have not. So the fact that one may have an integral worldview does not necessarily make him or her a more effective activist. In fact, it may pose an obstacle. Perhaps the reticence you are pointing out arises from the reluctance of integralists to "join the fray" due to their perception that entering into political fights would only fan the flames of the culture war. That is, some integralists may be reluctant to argue with those who adhere to earlier worldviews because they can see how the values of every worldview include important contributions that we need to retain and carry forward, so the typical polarized and polemic political discourse is off-putting to many who see things integrally.
Much of the activism that occurs within a political context involves arguing for one's position. And arguing for an integral position is currently very tricky because it doesn't easily fit into a sound bite or a slogan. Further, when an integral position is articulated, it is often misunderstood— for many modernists, integral positions appear to be just more unrealistic postmodernism, and for postmodernists, integral arguments seem to be versions of modernism. In politics especially, projections and the use of straw-man arguments are particularly problematic.
Moreover, at this time there are no real integral political candidates and there is not a viable integral political constituency. So perhaps the reticence to jump into the political fray is also a matter of following the "habit" of "first things first." That is, first we need to establish a larger foothold in the marketplace of ideas, first we need to create a more vibrant integral movement before we start claiming to represent a political perspective that very few currently understand.
Toward this goal, in 2008 I published an article in the ultra-left political magazine Tikkun entitled: Integral Politics and the Evolution of Consciousness and Culture. In the article I tried to briefly summarize an integral political approach and explain why the anti-modern stridency of much of progressive politics is actually working against the goals of progressives. It is hard for me to judge whether this article had much influence. I did receive a few comments, but my sense is that it did not convince many of Tikkun's readers. Indeed, I have spoken with many integralists who have lamented how difficult it is to convince postmodernists of the wisdom of an integral approach, and this is especially difficult in the realm of politics.
However, I do believe we need to keep trying. In the end, the degree of our transcendence is determined by the scope of our inclusion.
End Notes
1. By "modernist culture", Steve is referring to those individuals who view the world from the perspective of insights that arose as a result of the work by individuals and groups involved in the modernist movement. Wikipedia provides a useful definition,
"More specifically, the term describes both a set of cultural tendencies and an array of associated cultural movements, originally arising from wide-scale and far-reaching changes to Western society in the late nineteenth and early twentieth centuries. The term encompasses the activities and output of those who felt the "traditional" forms of art, architecture, literature, religious faith, social organization and daily life were becoming outdated in the new economic, social and political conditions of an emerging fully industrialized world."
Examples of influential individuals/groups originally involved in the modernist movement include: TS Elliot, Gertrude Stein, Pablo Picasso, Sigmund Freud, Virginia Woolf, Ernest Mach, among many others. The general thrust of the modernist movement was to break with traditional ways of thinking and establish new and empirical means of understanding the world focused on individual expression, progress, and innovation. Ironically, in staging the break of the movement with traditional bodies of knowledge, modernists, in many ways, set up with new precedence of codified norms by which the world would be understood. And it is those norms which largely guide our activities and understandings today.
2. Postmodernism is the cultural movement that followed and critically reacted to modernism. The PBS glossary defines postmodernism in the following way,
"A general and wide-ranging term which is applied to literature, art, philosophy, architecture, fiction, and cultural and literary criticism, among others. Postmodernism is largely a reaction to the assumed certainty of scientific, or objective, efforts to explain reality. In essence, it stems from a recognition that reality is not simply mirrored in human understanding of it, but rather, is constructed as the mind tries to understand its own particular and personal reality. For this reason, postmodernism is highly skeptical of explanations which claim to be valid for all groups, cultures, traditions, or races, and instead focuses on the relative truths of each person. In the postmodern understanding, interpretation is everything; reality only comes into being through our interpretations of what the world means to us individually. Postmodernism relies on concrete experience over abstract principles, knowing always that the outcome of one's own experience will necessarily be fallible and relative, rather than certain and universal.
Postmodernism is "post" because it is denies the existence of any ultimate principles, and it lacks the optimism of there being a scientific, philosophical, or religious truth which will explain everything for everybody - a characterisitic of the so-called "modern" mind."
Well known postmodernists include: Michel Foucault, Jacques Derrida, Thomas Khun, Franz Kafka, Ishmael Reed, Kathy Acker, Ellen Zwaffe Twilich, and Philip Glass, among many others.
3. "Green Meme" is a term derived from Don Beck's work with spiral dynamics to denote an approximate level of value-based evolution . Beck speaks about the attributes of the "green meme" of values evolution to EnlightenNext magazine as follows,
"At its peak, GREEN is communitarian, egalitarian, and consensual. Without ORANGE we wouldn't have GREEN, because in ORANGE the inner being was bypassed and ignored. Our science left us numb, without heart and soul, and with only the outer manifestations of success. The "good life" was measured only in materialistic terms. We discover that we have become alienated from ourselves, as well as from others. So GREEN, this fairly recent memetic code, began emerging about 150 years ago, out of the Ages of Industry, Technology, Affluence, and Enlightenment, to declare that in all of these undertakings, the basic human being has been neglected. The focus shifts from personal achievement to group- and community-oriented goals and objectives—for GREEN, we are all one human family.
GREEN begins by making peace with ourselves and then expands to looking at the dissonance and conflicts in society and wanting to make peace there, too, addressing the economic gaps and inequities created by ORANGE, and also by BLUE and by RED, to bring peace and brotherhood so we can all share equally. Gender roles are derigidified, glass ceilings opened, affirmative action plans are implemented, and social class distinctions blurred. Spirituality returns as a nondenominational, nonsectarian "unity.""
4. "Progressive politics" is often a very hazy term that gets applied to many different strains of political thought and action. But Andrew Garib at Alternet provided a reasonable definition back in 2005.
""At its core," John Halpin, senior advisor on the staff of the Center for American Progress writes, "progressivism is a non-ideological, pragmatic system of thought grounded in solving problems and maintaining strong values within society." Progressivism is practical and driven by the values that define America morality and have made our country stronger and better. It's a dynamic concept giving the leadership of an up-and-coming generation of politicos - you - the tools to make this nation's future brighter for all."
Progressives most often identifiy with the left side of the political spectrum as one step further than liberals. A rundown of the American Progressive Movement can be found here.
5.) A site on postmodernism and psychology identifies three major philosophical epochs as: premodern, modern, and postmodern. The site provides a useful summary of the three epochs as follows:
"Premodernism, modernism, and postmodernism as philosophical systems are three very different ways of looking at the world. The differences are represented best in their epistmologies. Each of these philsophical approaches have very different ways of looking at and understanding the world. But the differences should not be reduced down to merely a differnece in epistemology. There are many, many diffrences which go beyond what can be covered in this web site.
As noted previoulsy, it is very important to keep in mind that each of these major "isms" has many different philosphical approaches which could be categorized under them. The idea of a unified premodernism, modernism, or postmodernism is a fallacy. There are many variations of each of these philosophical systems.
Introduction to Overviews. A word should be said about these overviews prior to beginning them. First, more detailed analysis of each of these will be developed on this site over time. This page is more of a quick overview or quick reference for some of the major themes. As with any overview of complex systems, some oversimplification is necessary. Please be aware of this as you read. Additionally, it should be noted that this is primarily referring to Western thought.
Premodernism (Beginnings up to 1650's)
Epistemology. The primary epistemology of the premodern period was based upon revealed knowledge from authoritative sources. In premodern times it was believed that Ultimate Truth could be known and the way to this knowledge is through direct revelation. This direct revelation was generally assumed to come from God or a god.
Sources of Authority. The church, being the holders and interpreters of revealed knowledge, were the primary authority source in premodern time. Additionally,
Modernism (1650-1950's)
Epistemology. Two new approaches to knowing became dominant in the modern period. The first was empiricism (knowing through the senses) which gradually evolved into scientific empiricism or modern science with the development of modernist methodology. The second epistemological approach of this period was reason or logic. Often, science and reason were collaboratively or in conjunction with each other.
Sources of Authority. As the shift in power moved away from the church, politics (governments, kings, etc.) and universities (scholars, professors) took over as the primary sources of authority. Oftentimes, a religious perspective was integrated into these modern authority sources, but the church no longer enjoyed the privilidged power position.
Postmodernism (1950's to current times)
Epistemology. Postmodenism brought with it a quesioning of the previous approaches to knowing. Instead of relying on one approach to knowing, they advocate for an epistemological pluralism which utilizes multiple ways of knowing. This can include the premodern ways (revelation) and modern ways (sceince & reason), along with many other ways of knowing such as intuition, relational, and spiritual.
Sources of Authority. Postmodern approaches seek to deconstruct previous authority sources and power. Because power is distrusted, they attempt to set up a less hierarchial approach in which authority sources are more diffuse."
That the origins of these philosophical perspectives are located in the past, does not mean that the perspective themselves are not taken up and utilized by individuals in the present.